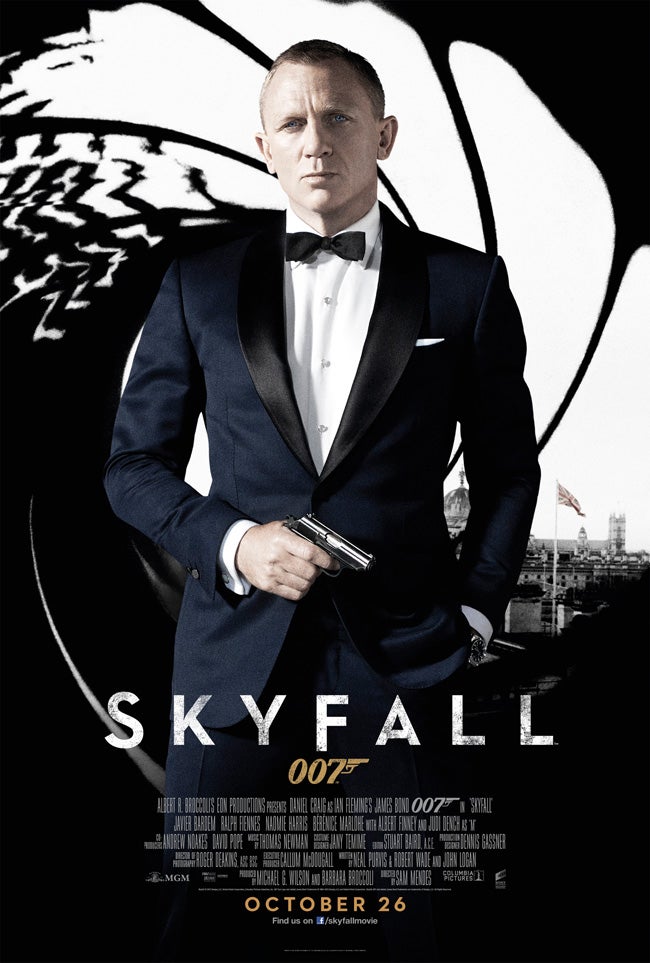 "Skyfall" is the sort of film that any Bond fan can watch and give a sigh of relief. After the relatively disappointing "Quantum of Solace" people were skeptical about the next entry despite the fact that "Casino Royale" was, for many, worthy of standing up against the Connery era. I must confess that I was actually one of the few people that enjoyed "Quantum of Solace" even though I acknowledge it was far inferior to its predecessor and quite unmemorable. My expectations were fairly high for Daniel Craig's third outing as the sometimes shaken but never stirred agent 007 and I was not disappointed. It is a great movie that fires on all cylinders and really packs a punch dynamically.
After an intense opening sequence in Turkey (And a terrific credit song by Adele), Bond takes a leave of absence from MI6, and of course everything goes to shit when he does, so he has to come back. Raoul Silva is behind the big plot and he is played terrifyingly by Javier Bardem with probably the most homosexual innuendos in a Bond villain since Connery's "Diamonds are Forever". That is basically all I can tell you without spoiling the interesting parts. The plot is balanced nicely by the director Sam Mendes, director of "American Beauty" "Road to Perdition" and "Revolutionary Road". He is the first director to helm a Bond film who has previously won an academy award but to me that is completely irrelevant because the two stars of the film are the script and the director of photography Roger Deakins. The Cinematography is without a doubt the best of any Bond film, giving us amazing shots such as Bond's shadow fighting another shadow in a tall building in the dark, or the shot seen in the trailer of Bond falling through some ice into a pond with a henchman.
I must confess that the ending, the very ending, gave me a Bondgasm. If the ending doesn't make you smile then you are not a true fan of the series. I won't tell you what the scene entails but I can tell you that it will get you excited for the next Bond film in a way you wouldn't expect. However my favorite scene must be one that is somewhere in the middle; look out for the part where Bond has to try and shoot a shot –glass. I still like "Casino Royale" the best out of the Craig movies but this one holds up perfectly against some of my favorite bond movies like "From Russia with Love", "Live and Let Die", and my all-time favorite "Goldfinger".
The film reminded me a lot of "The Dark Knight" even going as far as to have similar plot points (Or maybe "The Dark Knight" is similar to Bond movies?). There was also a fairly lengthy scene towards the end that played out like "Home Alone" and it that sense it strayed a bit from the Bond formula and that distracted me a bit but nevertheless it was enjoyable to watch.
If you are a Bond fan, do yourself a favor and watch this movie because to tell the truth this is the one you have probably been waiting for for over 20 years.
Tell me in the comments what your favorite Bond film is and what your least favorite one is as well. You know my favorite one but my least favorite is "View to a Kill" aka James Bond fights a villain who threatens his social security.